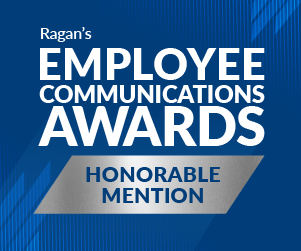 Mishawaka, IN (May 9, 2023) – Schurz Communications, Inc. along with their benefits broker, NFP, has been named an Honorable Mention in Ragan's Employee Communications Awards in the Benefits Communication category.
Ragan's Employee Communications Awards celebrates the organizations, people and teams who champion their employees and have redefined the field with their groundbreaking work. Finalists in this year's program were honored at a special industry event on Friday, April 28 at the City Winery in Chicago.
According to Sean Miller, Director of People Operations at Schurz, Schurz works closely with NFP's employee communications practice in Indianapolis on total rewards communications. Schurz's focus on Total Rewards using a digital benefits guide, custom videos and year-round multi-channel communications strategy has helped improve understanding and experience with plan design and total rewards options.
About Schurz
Schurz is a family-owned corporation that has been helping businesses, communities and individuals make meaningful connections for five generations. The Schurz legacy began in newspaper publishing, radio, and television, and today, the company remains committed to making information more accessible through the platforms and technology of the digital age. Schurz Communications' recent investments include regional broadband companies and cloud managed services providers, and the company's portfolio also includes a variety of minority investments. For more information, visit: www.schurz.com.
About NFP
NFP is a leading property and casualty broker, benefits consultant, wealth manager, and retirement plan advisor that provides solutions enabling client success through the expertise of over 7,400 global employees, investments in innovative technologies, and enduring relationships with highly rated insurers, vendors and financial institutions. NFP is the 9th best place to work for large employers in insurance, 7th largest privately-owned broker, 5th largest benefits broker by global revenue and 13th largest broker of US business (all rankings according to Business Insurance).
About Ragan Communications and PR Daily:
Ragan Communications has been delivering trusted news, training and intelligence for more than 50 years to internal and external communicators and business executives via its conferences, webinars, training, awards, subscriptions and its membership divisions. Its daily news sites—PRDaily.com and Ragan.com—are read by more than 600,000 internal and external communicators monthly.