SOUTH BEND, Ind. – Float, a software startup that provides ticket insurance for events using a peer-to-peer matching platform, took top honors and a cash prize of $5,000 at the Notre Dame Schurz Innovation Challenge final event, held Wednesday (March 1) at Innovation Park at Notre Dame.  The challenge, sponsored by Schurz Communications, Inc., is a competition for innovators interested in bringing their ideas to life through an incubation-style process. Float was co-founded by international economics senior Jackson Jhin and computer science junior John Joyce. They are currently taking the product to market and are preparing for their beta launch.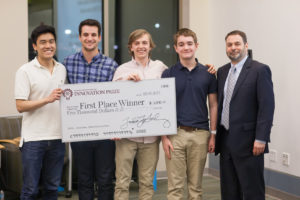 Thirteen teams participated in the competition, and each team was required to have at least one Notre Dame student.  The teams worked closely with Innovation Park and its client, The South Bend Code School, over a number of months to refine their ideas and produce working prototypes. The ideas were presented at the final event to a judging panel consisting of entrepreneurs and media professionals.
Placing second and receiving $2,500 was Impowerus.org, a virtual platform that aims to address the need for legal counsel amongst the juvenile immigrant community.
Third place ($1,500 prize) was awarded to Integrative Concussion Analytics, which designs systems to decrease both risk and incidence of brain injuries for athletes and personnel without jeopardizing performance.  Two prizes were also given for student-coded projects, and were awarded to Float ($2,500 prize), and TurboTutor ($1,500 prize), which aims to provide on-demand peer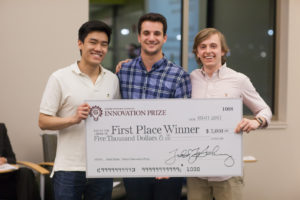 tutoring services for students living on college campuses.
"This challenge is designed to foster the students' innovative spirit and give them tangible experience developing their ideas through a dedicated process," said Scott Schurz, Schurz Communications Vice President of Human Resources and Administration. "It was exciting to see the culmination of their excellent work in this dynamic final event."
South Bend Code School Co-Founder, Alex Sejdinaj, noted that collaborating with the student teams was inspiring. "The ideas were excellent, and it was our pleasure to help many of these teams bring their ideas to life by building applications or web platforms that served as a minimum viable prototype. We look forward to seeing where the teams take their ideas in the future."
About Schurz Communications Inc.
Schurz Communications, Inc., is a Mishawaka, Indiana-based news and information company that consists of cable, newspaper publishing and digital media. The company publishes daily and weekly newspapers in medium and small markets. It also owns cable companies and phone directories. Geographically, Schurz Communications has a presence in Arizona, Indiana, Iowa, Maryland, Michigan, Nebraska, Pennsylvania and South Dakota.
About The South Bend Code School
Headquartered at Innovation Park at Notre Dame, The South Bend Code School aims to make South Bend a city that codes.  Our mission has been focused around teaching people from all walks of life that code is a tool used to build your imagination.  In our program, we give people real world experience building portfolio viable applications and equip them with the web development skills needed to obtain jobs at technology focused companies.  Learn more at http://southbendcodeschool.com.
About Innovation Park at Notre Dame
Innovation Park at Notre Dame exists to cultivate marketable innovations in an inspiring environment, with access to Notre Dame cutting-edge research, world-class faculty and students, and an extensive network of regional and Notre Dame affiliated industry experts and entrepreneurial veterans. In simple terms Innovation Park connects aspiring entrepreneurs with Notre Dame faculty, students and other resources, supports them to collaborate with market experts and helps them commercialize their new ventures successfully.