Franklin D. Schurz, Jr., chairman emeritus of Schurz Communications Inc., was presented with an honorary degree of humane letters during the May commencement ceremony at Indiana University South Bend.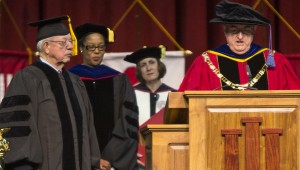 A total of 1,054 students received degrees in the May 12 event at the University of Notre Dame's Joyce Center. Indiana University President Michael McRobbie was principal speaker and conferred the degrees.
The impact that Franklin Schurz Jr. has had on the lives of scores of Indiana University South Bend students will be felt for generations to come.
Thanks to his generosity, 145 recipients of Opportunity Scholarships have been able to pursue their educations and careers, backed by a fund that Schurz established in 2003. The endowment, which will exist in perpetuity, provides multiple annual scholarships to students from minority backgrounds.
Every Spring, Schurz travels to Indiana from his home in Montana to meet with the current group of Opportunity Scholars, "to provide a personal connection that encourages students to persist to graduation," says Gwendolyn Mettetal, IU South Bend professor of education and of psychology and director of the University Center for Excellence in Teaching.
"By his personal actions and efforts, which reflect his sincere belief in the power of education in the lives 'of individuals and their communities, Schurz has demonstrated his passion for education in the lives of Hoosiers," says John McIntosh, former associate vice chancellor for academic affairs at IU South Bend. "He is a role model for selfless service and giving."
Schurz's leadership in fund raising campaigns and capital projects at IU South Bend and throughout the university has persisted for three decades. "He has advanced public support of IU South Bend during critical periods of growth and expansion," says IU South Bend Advisory Board member Arthur Decio. "Frank has proved to be a tireless worker for the IU South Bend campus."
IU South Bend Chancellor Terry Allison notes that Schurz has been a strong and stable force to whom others have turned throughout his life. He has provided guidance to numerous organizations that are dedicated to helping others, including the Indiana Arts Council, the Indiana Endowment for Education Excellence, the South Bend Chamber of Commerce, the Board of Visitors of the School of Public and Environmental Affairs, the Board of Regents of St. Mary's College, the Culver Education Foundation, and the Advisory Council of the College of Arts and Letters at the University of Notre Dame, to name but a few from a very long list.
His honors and awards include the Cornerstone Award, the Chancellor's Medal, the Presidential Award of Merit from the National Newspaper Association, and the Frank Rogers Award for Community Service from the South Bend Rotary Club.