By CHAD GIDDENS
Hoosier Times, Bloomington, IN
In late March, The HoosierTimes in Bloomington, IN launched its newest venture, Climbwire Digital Solutions, in an effort to diversify its revenue stream and continue to be the local media company with the most solutions for small and medium businesses to grow their revenue.
This type of digital agency is becoming more common among media companies and is one of the first such projects within Schurz Communications.
The new division is designed to help businesses with online solutions such as:
— Web site development, Help will be provided  to design and develop a web presence with informative and optimized content to give the site improved search visibility, social media links and analytics;
–Mobile optimization, A mobile web site is the best way to make a businesses information available. Consumers are given anywhere access to a web site while generating new business.
–Search, Market the business to people looking for local products. Be more focused and turn customer searches into leads with targeted ads.
–Retarget. Reach more searchers, more often and more effectively with keyword level search retargeting. Enable advertisers to combine the effectiveness of search with the reach and brand impact of display.
–Social media management'
–Pay-per-click advertising.
Travis Trestler was hired as the digital solutions specialist, which entails researching local business's websites, search engine presence, social media efforts and much more.  He then analyzes those business's needs and determines what products we offer that can help them solve problems.
Climbwire has contracted with Propel Marketing, a division of GateHouse Media, to serve as our product fulfillment partner, meaning we sell products locally, but work with a company that already has an infrastructure in place to deliver digital solutions in an efficient and effective manner.
You can learn more about Climbwire by 'Liking' us on Facebook and checking out our page www.Facebook.com/ClimbwireDigitalServices.  We also have a presence on Twitter (@Climbwire_DS), and on LinkedIn and YouTube.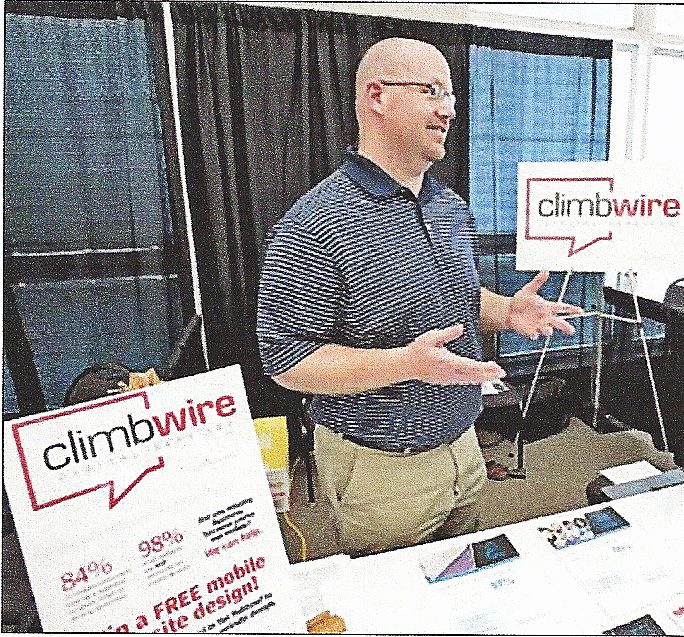 Hoosier Times Advertising Sales Manager Chad Giddens talks about Climbware Digital Solutions at the 2013 Bloomington Business and Technology Expo at the Monroe County Convention Center.